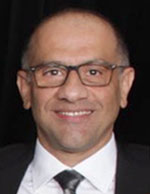 Damian was called to the Bar in 1992.
By Letters Patent dated 19th December 2022, Damian was appointed as one of His Majesty's Counsel.

Damian's areas of practice include Company and Trust Law, Corporate Fraud, and Commercial Litigation.

Cases of interest include:-
Bergan v. Evans [2019] UKPC 33
- relationship between s.163 of the Evidence Act and Part 32 (Experts) of the Civil Procedure Rules. Damian successfully represented the Appellant.
Anne Bass v Director of Physical Planning SKBHCVAP2016/0004 – whether the Public Authorities Protection Act is applicable to judicial review proceedings
Simmonds v Williams (No. 2) 57 WIR 95 – scope of principle of natural justice as it applies to commissions of inquiry
Kingsley Bowman v Hansraj Matadial Claim No. 222 of 1988 (St. Vincent) - (tried in 1996) – dispute arising from sale of land in St. Vincent and the Grenadines;
Emilio Rivera v Quantum Group Limited Civil Appeal No. . 26 of 2003 – liability of bank arising from an international funds transfer;
Chief of Police v Calvin Nias 73 WIR 201 – constitutionality of charge of abusive language;
Jackilyn McGibbon v National General Insurance Corporation Claim No. 48 of 2008 (Anguilla) – liability of insurance company for legal costs under statutory provisions mandating minimum insurance cover;
Rest Haven Ltd v Kishu Chandiramani Civil Appeal No.7 of 2004 – rights of mortgagee to buy in on sale of mortgaged property;
Wycliffe Baird v David Goldgar et al Claim No. 84 of 1993 – purchase of land; specific performance; effect of acquisition by state;
Jurisdictions where admitted to Practice
Damian is also called to the bars of Anguilla, Antigua and Barbuda, Grenada, St. Lucia and St. Vincent and the Grenadines
Appointments
He has served as Vice-President of the Bar Association and a Director of the Social Security Board and the St Kitts Tourism Authority.
In August 2018 Damian was appointed by the Governor-General of the Federation of St. Kitts & Nevis as Chairman of Integrity Commission under the Integrity in Public Life Act. The Act is intended to make provisions for a Code of Conduct and declarations of interest for public officials; for the offences of abuse of office, misconduct and neglect of duty. The Act also provides for the establishment of the Commission, its powers and functions, and to provide for related or incidental matters. Damian served in that position until May 2019.

email: This email address is being protected from spambots. You need JavaScript enabled to view it.

Judicial Appointments

Damian was appointed to act as a High Court Judge in Antigua and Barbuda between May to July 2020.  He was also appointed to act as a High Court Judge in Anguilla in 2021.

Kings Counsel

Damian was appointed as one of His Majesty's Counsel in December 2022.